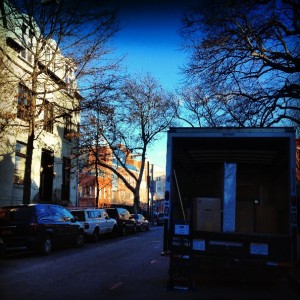 My darling readers: After spending the past week off the grid, I'm happy to report that I survived my big move from the Upper East Side to Brooklyn. Whew! Now, the unpacking begins—I have NO idea how I managed to squeeze so much stuff into my tiny, New York-sized apartment. My collection of magazines alone filled almost five boxes. Oops.

But everything went smoothly, and now I can focus on getting to know my new 'hood.
Stay tuned for more updates about the move coming soon. In the meantime, send good organizational thoughts my way as I tackle unpacking each box. I need all the help I can get!