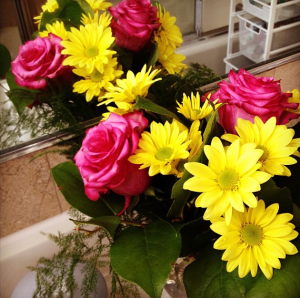 How often do you buy fresh flower arrangements to sprinkle around your home? It's a new tradition I've started since moving to Brooklyn—and a cheap investment that brightens up our entire space. I'm lucky—Edelweiss Floral Atelier is a new shop in Cobble Hill, and one that happens to be located along the route I walk home. The selection—and the owner's expertise—makes stopping in to put together a bouquet so much fun.
Another option? Buy flowers at the supermarket. These tips for how to arrange a bouquet like a professional from Joanna over at A Cup of Jo are great and really easy to do.
Do you buy flowers for your home on a regular basis? What's your favorite bloom?