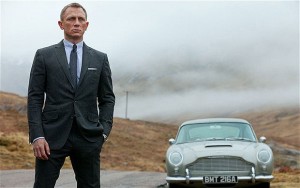 Up until two weeks ago, I'd only seen one James Bond film—a Pierce Brosnan one. In my opinion, it was a good one, but according to Matt, it didn't count.

He said that I needed to watch Sean Connery and establish my opinion on Bond from there. So, we chose a night, cooked dinner, and rented From Russia With Love. I was hooked! After seeing it, I knew what was coming next: Skyfall starring Daniel Craig. Matt and I made it another date night: First the movie, then hot cocoa from The Chocolate Room in Brooklyn. I adored Daniel Craig as Bond—he is so fun to watch!
Who's your favorite James Bond? Are you a big fan of these films?