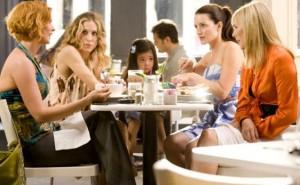 Happy weekend dear readers! What do you have planned? My weekend is centered around one thing: brunch. With all my travels over the past two weeks, brunch is the Saturday-Sunday activity that I've missed the most. Who knew it could be so difficult to find eggs, French toast or pancakes past 10 a.m.? Lesson learned: this only-in-New York tradition is one I will never take for granted again. Anyways, have a wonderful weekend — here are a few happy posts from around the web:
The play I saw last night!
A Chanel press kit, circa 1932.
Spring fever — and the perfect yellow bag!
What's your sign?
You should always take advantage of a SmileBooth.
You'll never do a whole lot unless you're brave enough to try.
I love this mustard yellow coat.
Superbowl treats – plan your menu now!
Remember, orange is the new pink.
Because boys need rules!
(Image via HBO)