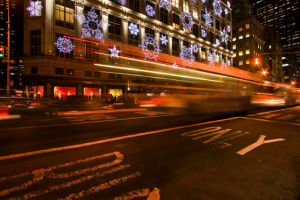 My dear readers, happy two weeks until Christmas! I don't know about you, but I'm so happy its the weekend. I need to catch up on holiday shopping — I am so far behind! I'm also treating myself to an extra dose of holiday spirit Saturday night. Matt and I are dressing up for festive cocktails and dinner out with friends. 'Tis the season to eat, drink and be merry! What about you? What do you have planned for the weekend? Here, to get it started right, a few happy posts from the web:
A gift for friends visiting New York.
The most amazing collection of accessories from Club Monaco — I am obsessed with the pillbox hat!
The perfect 2011 calendar.
Lauren Hutton loves Georgia O'Keefe.
Getting leggy.
Dainty black shoes for New Year's!
A red iPhone case – this one's from Kate. (Jack's is cool too!)
The bank of the future.
Oh, to live in a bubble…
Pretty paper!

L'apero: Paris v. New York.
Yellow balloons and yellow shoes.
My next vacation!
(Image by of lindsaypunk via Flickr)