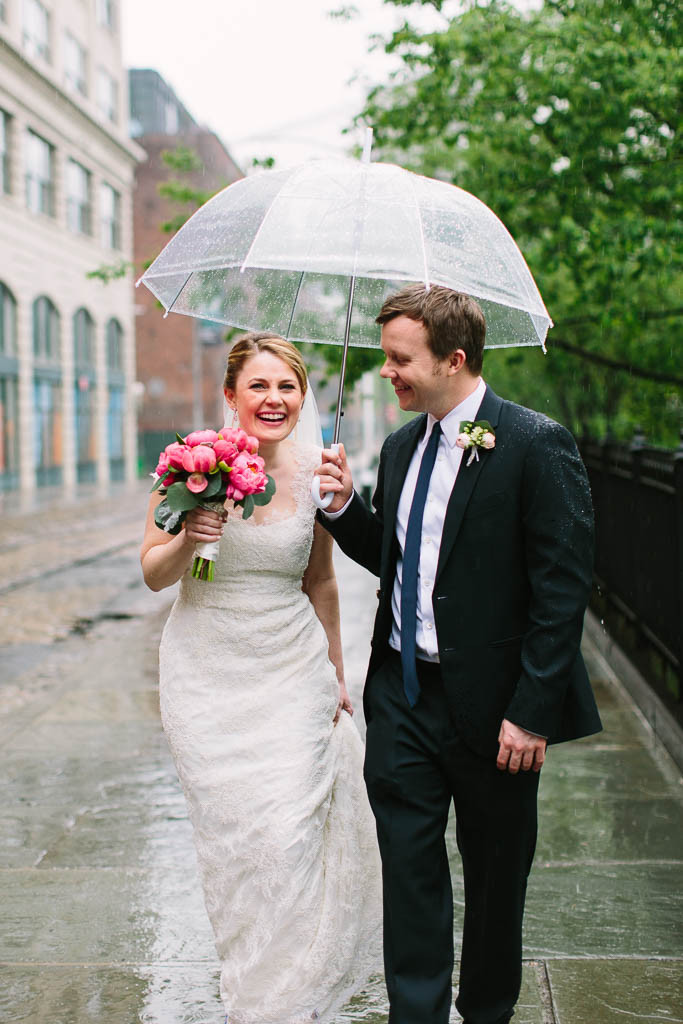 You guys! I'm so sorry for the radio silence — I really fell off the wagon with blogging in the six weeks leading up to getting married. Here's the thing that no one really warned me about: If you don't hire a wedding planner, you will be drowning in wedding to do's and logistics and peony color decisions right up until the moment you say "I do."
But to be honest, I wouldn't change a thing–and yes, this includes the weather. For the two weeks leading up to the big day, I was waking up hourly in the middle of the night to check what became my lifeline app: Dark Sky. The forecast? Rain. Then, thunder and lightning. Then, rain, definitely rain. I was panicked.
But something magical happened the day of. I didn't care. And it downpoured. It wasn't a dainty, misty Brooklyn storm, but torrential rainfall. We took every single one of our wedding portraits outside as planned, but here's the truth: It was the most romantic moment of the whole day. Just me and Matt (and our photographer, the lovely Christine Han, who got soaked).
The New York Times got in touch with us afterward to get our tips on how we prepared, which given the volume of my worries, made me laugh out loud. But it all worked out. And right after we were officially hitched, the clouds parted and we got a double rainbow and one of those epic NYC sunsets that made our guests "ooh" and "ahh" while standing between bridges on the Brooklyn waterfront.
The ironic part is that, as you know, my favorite movie is Singin' in the Rain. Right as we were heading over to our venue to walk down the aisle, I noticed one of the flower girls in front of me all by herself. She was dancing and twirling with her umbrella–kinda like Gene Kelly–and suddenly the whole day was completely right.
More blogging (and wedding tips and honeymoon updates!) to come. xo
(Photo by Christine Han)