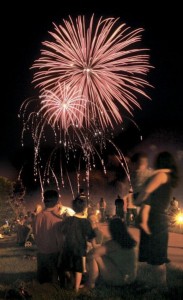 My darling readers, cheers to a short week! What do you have planned for the 4th of July? I have to admit that it's my favorite holiday. Mainly because of the fireworks, but I also love that it's the unofficial kick-off to summer in New England. I'm taking it easy this weekend, and very psyched to have a New York staycation planned. Wishing you a terrific four-day break! Here, to get it started right, a few happy posts from around the web:
An awesome wedding toast.
Grown up topsy tail.
4th of July: From day to night.
Sparkler cupcake toppers.
The art of summer.
Rachel Khoo's picnic ideas.
Macarons in New York.
For those who love tabbouleh. Yum!

A red, white and blue wedding.