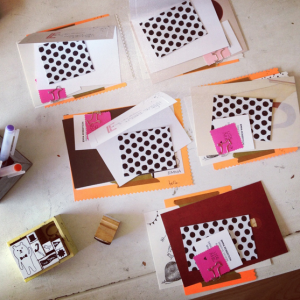 I'm so inspired by the creativity of Emma Robertson and her lovely blog. Recently, she invited six of her friends to participate in a snail mail extravaganza! The rules: each person has to mail something special to everyone else that's a part of the chain. In Emma's case, she's sending all six friends pretty paper, a hand-stamped story she wrote herself, a personal note, and more. What a clever idea, and an amazing tradition to start. There's nothing better than getting actual mail — what a great way to ensure that it happens more often.
What do you think? Would you be game to start a letter writing group with your friends?
For one-of-a-kind greeting cards, shop here and here.