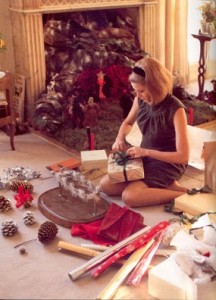 Happy Friday, my darling readers! I'm signing off from now until 2014, so wishing you a very Merry Christmas, and a happy new year, too! This year—and this month—went by in a blink. I'm so looking forward to catching up on rest, and seeing family and friends over the next couple of weeks.

Here, to get your weekend started right, a few happy posts from around the web:

Talking about Instagram.
Flannel styling.
Prank calls.
Snowflake table runners.
Ellie Kemper, the holiday gift wrapper.
Festive pants, three ways.

Beautiful postcards.

Winter pasta. YUM.
A Love Actually-themed soiree.

Daydreaming about spring.
Last minute wrapping tips!
(Image via Storyboard C)