It's hard to write about our weekend in Paris with just one post, so I broke it up into two separate entries so I had room to cover it all.

It's just a two hour flight from Stockholm—so quick! Last time, we rented an apartment in St. Germain des Pres, so we decided to mix it up and stay in the 13th arrondissement this trip. There's nothing more fun than combing through the apartment listings on Airbnb to choose a place. We found an adorable 1-bedroom right next to Place D'Italie and knew in an instant, it was perfect for us.

The first morning we were there, we woke up early to an overcast day. The weather is actually one of my favorite parts about Paris: It's sunny one minute, raining the next. As strange as this sounds, the city is almost more beautiful in the rain. First thing on our agenda: brunch with our friends Céline and Hugo at their apartment, just a 10-minute walk from our neighborhood. We made it just before it started to pour, then we sat by their French windows, drinking wine, eating cheese and charcuterie with baguettes, watching the rain come down. The best part? Hugo made chocolate mousse from scratch for dessert. Yum!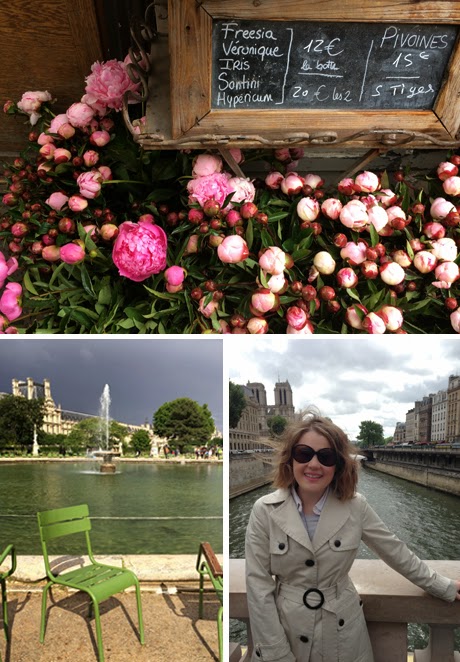 When we left their apartment, we had the whole afternoon to stroll through the city and see the sights. Just like Stockholm, Paris is totally walkable—we made our way over to the Jardins des Tuileries next to the Louvre (look at that dark sky, even with the sun!), wandered along the Seine, and shopped for groceries and sweet treats at Le Bon Marché. The fresh produce and the flowers are two more things I love about Paris. The peonies (or les pivoines!) this time of year are stunning—so hard to resist! Before we knew it, we had spent close to five hours shopping and strolling around.
For dinner, we went to Le Chateaubriand, a culinary hotspot that Matt was dying to try. The chef is known for his 'rock 'n roll' style—we were blown away by each course. I tried to remember to snap pics, but failed. I was so wrapped up in the meal! I did manage to get a couple of photos of dessert, which included a small plate of strawberries sprinkled with a combination of Indian spices and anise. The flavor? Unreal. We finished dinner late night, and decided to hop on the metro to see the Eiffel Tower glittering at night. A lovely day!
PS: A recap of Stockholm here.