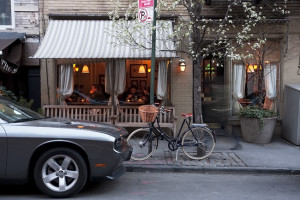 I've fallen behind on my exploration of New York brunch spots these days (mainly because my good friend—and regular brunch date—moved away from New York!). But this weekend, the weather was perfect for relaxed, al fresco dining midday. I relied on a favorite: Café Cluny in the West Village. Have you been? The French-inspired food is delicious, and the people-watching, even better. The Breakfast Club Sandwich (served with French fries, of course) wins the award for favorite dish—a light and flavorful combination of fried eggs, bacon, avocado, spicy mayo and more.
Do you have a regular brunch spot where you live?
More brunch in New York here.