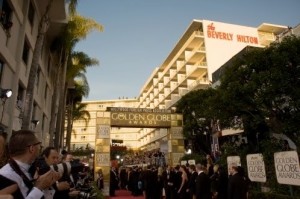 Guests arrive for the 2009 Golden Globes.
Of all the awards shows, the Golden Globes are my favorite. I think I first fell in love around the time Christine Lahti was in the bathroom when her name was called. It was the same year Titanic won and Helen Hunt and Jack Nicholson exchanged loving, yet sarcastic compliments over their Best Actress/Best Actor wins. Blame the relaxed atmosphere, blame the merging of TV and film stars in the same room, blame the booze — it's seemingly impossible to have a bad time at the Globes.
This year should be no exception. In particular for me because so many of the stars/shows/movies I adore are nominated! My picks? In a perfect world, I'd love to see Up in the Air win for Best Picture (Drama). I also think Emily Blunt is deserving of the Best Actress (Drama) award for The Young Victoria. I love Vera Farmiga, Anna Kendrick and Courteney Cox. The Mad Men cast should clean up as usual, although I'd love to see Julianna Margulies take home the Best Actress award for The Good Wife. Finally, Glee! Best TV Series, Comedy or Musical? It's a perfect fit!