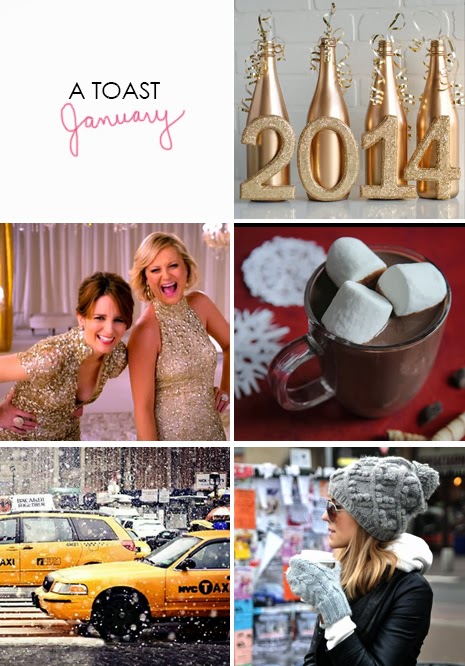 Happy New Year! I'm still in that phase where it's hard to remember to write the date as 2014.
It's been quite a chilly start to January, but I always love how cozy this time of year feels. It's sort of fun to just hibernate indoors (although I know by March, I'll be ready to get outdoors again!). What are your favorite things about this month? I love the feeling of a fresh start, winter hats and coats, and also the thought that, in just one week, we'll get to watch Amy Poehler and Tina Fey host the Golden Globes again!
I also always think carefully about my resolutions this time of year. My goals this year are:
1) To plan more frequent phone chats with friends and family (texting is great and all, but there's nothing as fun as catching up and laughing over the phone!).

2) To practice yoga at least once a week. There is an awesome studio in my neighborhood, and I love going, but need to make it a routine.

3) To write more—for myself. I have lots of ideas swirling around, but I need to actually block off time to put the pen to the paper.


4) To continue to work on my French. My vacation to France and Italy is just five months away!

What are you excited about this month—and in the year ahead?

(Image 1, 2, 3, 4, and 5)