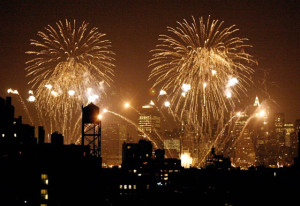 Happy weekend dear readers! I must admit — the 4th of July is hands down my favorite holiday. There's nothing I love more than a gorgeous fireworks display. It's so magical and summery and beautiful, especially when timed to patriotic music like the 1812 Overture! What do you have planned for the weekend? I'm celebrating my friend Anthony's wedding in Massachusetts, and visiting my family too. I hope you all have a lovely holiday weekend. Here, to get it started right, a few happy posts from around the web:
A pilgrimage to Pizzeria Bianco.
A woman's right to Choo's.
Julia Roberts by the numbers.
DIY toilet paper owls.
More from the Jazz Age.
The perfect BLT.
Because everyone loves to hula!
A summer hat I want.
The best indoor pool EVER.
The great outdoors.
(Image via New York)