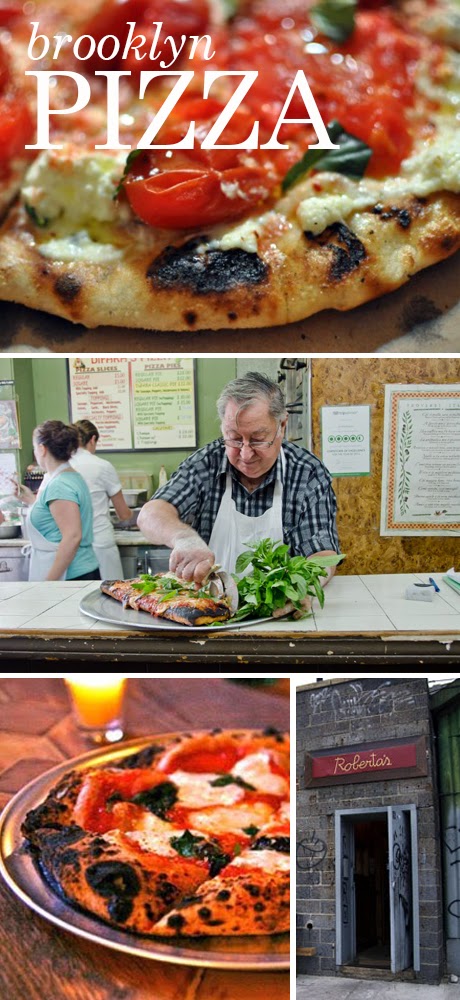 My love of Brooklyn pizza has gotten very serious over the last year and a half since moving to my new 'hood. Even better, I've gone on many a pizza taste test with my pizza-loving pals Dominic and Shannon. This weekend, our efforts will continue with a visit to a relatively new joint called Emily's in Clinton Hill. I can't wait!

In honor of the occasion, I thought I'd pay homage to my top five Brooklyn pizza spots. Of course, Emily's has a real shot of nudging someone off this list—but they'll have to work very hard to do it.



Here goes:

1) Di Fara: I call this destination pizza. Even though I live in Brooklyn, it's a hike on the subway. I've actually been twice, but only after renting a car each time. This pizza is life-changing, from the sauce to the olive oil and hand-snipped basil leaves.

2) Speedy Romeo: Great pies and great service. That's a tough combo to find. And despite being a backdrop for the recent season of Girls, I've still never had to wait more than 15 minutes for a seat. Impressive.

3) Roberta's: The Bee Sting isn't on the menu anymore, but this specialty pie is my go-to order here. It comes with honey. Need I say more? Plus, the backyard bar area illustrates Brooklyn at it's best.

4) Paulie Gee's: Delicious pizza, but an even better late night scene, given that Paulie himself visits the tables to check in and make sure your pie is perfect.

5) Fornino: You know my love for this place runs deep. This spot is all about pizza with a view. What slice won't taste great when it's enjoyed next to the Manhattan skyline under pretty globe lights?



Honestly, it was tough to narrow the choices down—and I'm totally open to debate. What is your favorite Brooklyn pie?

(Image 1, 2, 3, 4)