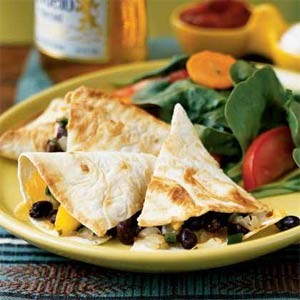 Happy Valentine's Day, my

darling

readers! Are you doing anything special to celebrate? It's funny—Valentine's Day really isn't my thing. But Matt loves the holiday, and always

finds a way to make it

special. This year, we decided to compromise: We're staying in to cook!

The plan is to rewind back to our third date

when

Matt whipped up these del

icious

mango, black bean and poplano quesadillas. They are delicious

(but a lot of work to prepare)

! So as a special treat, we're making these tonight, and bringing this recipe back into the mix. :

)
After dinner, the plan is to go out for hot cocoa at the Chocolate Room, one of our new neighborhood spots.
What are you doing? Staying in? Going

out

? Whatever the plan, remember how sweet you are—and that you are loved

!